Our Foundations
ROYALJET'S VISION IS TO BE THE GLOBAL REFERENCE IN PREMIUM PRIVATE AVIATION, DELIVERING PERSONALIZED DELIGHT TO TODAY'S LEADERS, PROJECTING THE VALUES AND IDENTITY OF ABU DHABI AND THE UAE
Guiding Principle
No1
Having a role of impact.
We're not content with just being in aviation.
We want to move beyond that and have a purposeful and impactful role in the industry.
With our vision, we strive to affect how clients, partners and competitors see and experience business jets.
We work to see the RoyalJet brand become a solid and impactful reference in the industry – locally, regionally and globally.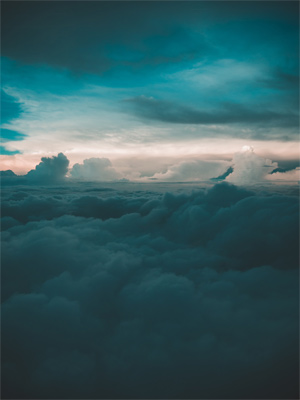 Guiding Principle
No2
Creating
Tailored Journeys.
We are not in the business of carrying our clients from A to B. This is just the beginning.
In truth, we are providing an experiential journey more than a physical one.
We provide a customized service, exploring multiple layers that a premium flight should entail, from before scheduling the trip, until much after returning safely back home.
A personalized service designed around the needs and wants of our passengers.
A truly tailored journey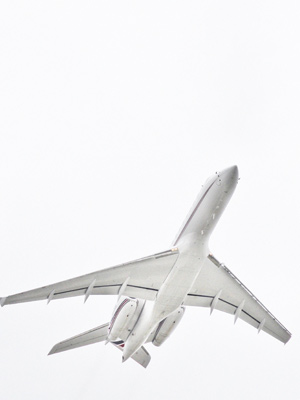 Guiding Principle
No3
Pursuing delight.
In the segments where we operate, time and privacy are critical assets.
In this same environment, material items easily become commodities – irrelevant and ordinary.
So, beyond just having more things, our guests value delight and experiences; unique moments; a detail; a gesture; and the emotional treats these trigger.
For our customers, delight is the new luxury. For our teams, it is a behavioral belief.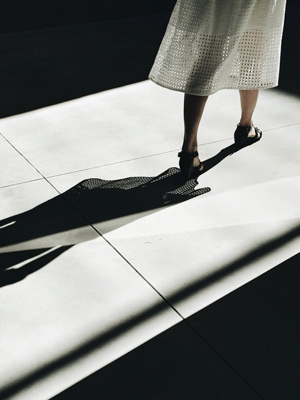 Guiding Principle
No4
Bringing a
streamlined experience.
Although we understand the experience as an overlay of multiple service/product layers, this doesn't need to mean an overload of stimulus to the senses.
In fact, it's quite the opposite.
Overall, our experience is designed following the principles of minimalism and elegance, so it delivers a sense of timelessness.
These follow the aesthetics of the new Abu Dhabi and establishes one additional link with the emirate.
A set of guiding principles that value quality over quantity.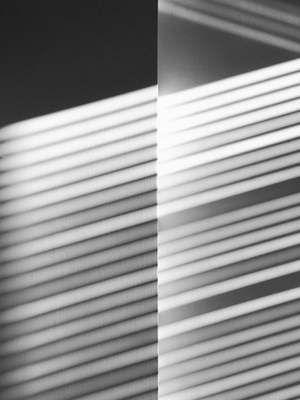 Guiding Principle
No5
Standing for
more than ourselves.
Beyond a private airline or even a premium charter service, our aircraft, our people and our spaces carry an intimate link to the city of Abu Dhabi and to the late Sheikh Zayed.
Our duty doesn't stop at respecting and being on par with the solemnity of carrying the RoyalJet name.
Beyond that, our vision is to help project the image of the new Abu Dhabi to the world; a city growing and prospering in balanced sophistication. Young and vibrant. Invested in the design of a new future.
Beyond a luxury flight service provider, we assume the responsibility of being the flag-bearer, across the world, of the new Abu Dhabi and the new UAE.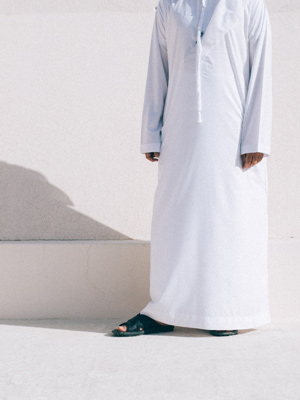 Moments
That Matter
THE NEW ROYALJET EXPERIENCE COMES TO LIFE THROUGH OUR PEOPLE AND THROUGH THE CORE ELEMENTS OF OUR GUEST'S JOURNEY, WHICH WE ARE CONTINUOUSLY STRIVING TO IMPROVE, FROM BEFORE THEY DEPART UNTIL WELL AFTER THEY ARRIVE AT THEIR DESTINATION.
Experience personalization
A digital platform which will unlock better, more customized and curated experiences for our passengers, while allowing staff and crew to access passenger's expectations and desires, providing founded insights for multi-layered and delightful experiences.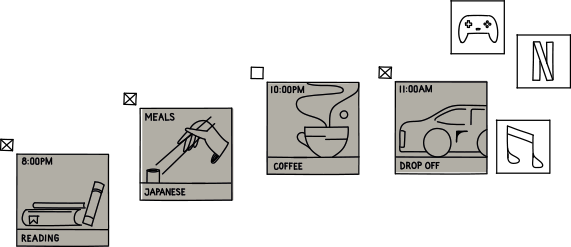 The Perfect FBO
The FBO is the beginning of the immersive experience, completely surrounding the passengers with an environment that is to their expectations and beyond. Passengers should feel excitement and curiosity, as if they are truly being immersed into a special experience, particularly as we try easing pre-flight anxiety.

The Perfect Aircraft
The passenger's experience ramps up once onboard the aircraft, and their first impression on arrival will have a big impact. They should feel ready and eager to explore the aircraft's layout, almost like it has been designed specifically for their flight journey and experiences that they have requested beforehand.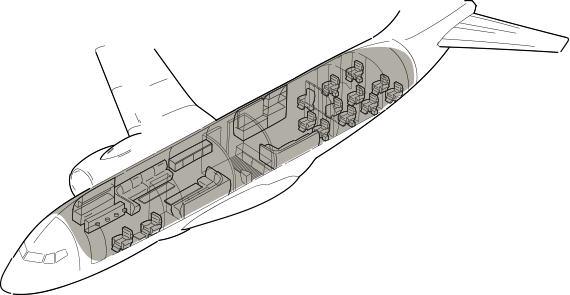 Tailored Environment
The flight journey is the biggest portion of the RoyalJet experience and it is important to make sure passengers are feeling comfortable and connected at all times.
We have the possibility to customize the experience in the cabin but furthermore, we can give our passengers intuitive control over their experience and the ambient elements that surround them.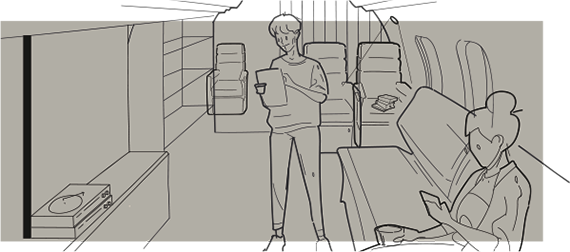 Customized Meal
For an added delight, the touch of your destination will be a box that is delivered before the flight journey. This box is a reflection of the best sweets, culinary tastes, or bites from the city that passengers will travel to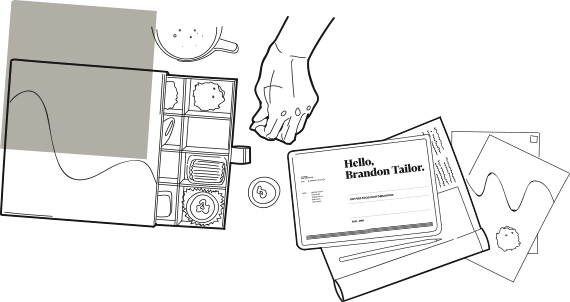 Extended Delight
The engagement beyond the flight will unlock experiences for passengers in different cities and help unveil the best places and events the passenger may be unaware of. Discovering these new places, whether it's locally or in different cities around the world will add an aditional layer of well curated delight.